How to Make Your Furnished Listings Appeal to Mid-Term Tenants
When you're listing a furnished home, it's easy to feel like you're competing with hundreds of other listings. There are so many homes that corporate travelers and dislocated families can choose from, after all! We all want our mid-term listings to stand out from the crowd and get booked as soon as possible. But how do you do that? With these tips for making sure your listing stands out from the crowd, we hope you'll be able to keep your mid-term rental occupancy full and 2x-3x your long-term rental income than ever before!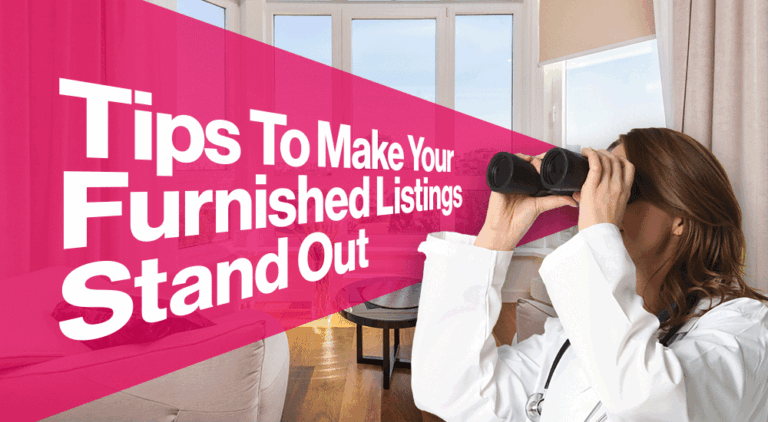 Here are some tips on how to make your furnished mid-term rental listing stand out:

Showcase your property with high-quality photos.
Photos make all the difference in how a traveler perceives your property, so don't skimp on this step! It's also important that you have several photos from different angles (for example, both inside and outside), so that potential renters can see exactly what they're getting,
You're going to want to use a good camera for this. If your phone is what you have on hand, don't worry–your photos will still be amazing! But if you can access a DSLR or mirrorless camera, use it. I prefer to hire a professional photographer to take photos of my listings.
The best light for photos is natural light. Try taking pictures during the day so that the sun shines through the windows and makes everything look bright and airy. You can also take advantage of morning or evening light by positioning yourself near windows with pretty views outside (if there are any).
Make sure all of your images are clear and well-lit and show off exactly what types of spaces exist within each room so prospective guests know exactly what kind of experience they'll have staying there.
Include a well-written description.
A well-written description is one of the most important elements of your listing. So, it's important to describe your place in detail and with as much personality as possible. Include all the amenities and features that make your property unique. If your property is located in a desirable location, make sure to highlight this in the listing. Mention nearby attractions, restaurants, and other amenities that renters might be interested in.
This will make it easier for potential renters who are looking for something specific (like an extra spacious bathroom) to know whether or not this house has what they need before contacting you about booking an appointment for viewing!
Price for maximum profit, not for minimal loss.
Set a competitive rental rate that is in line with other comparable properties in the area. Research the rental rates of similar properties to ensure your pricing is competitive. I recommend pricing for maximum profit while still leaving room for negotiation with guests who want to pay less than market value (and thus take away from your profits).
Offer flexible lease terms.
Many renters are looking for flexible lease terms, so consider offering month-to-month leases. Also, consider being a pet-friendly listing as it will make it stand out to families and travelers who are traveling with pets.
Showcase the furniture and décor.
If your property is furnished, showcase the furniture and decor in the photos and description. Make sure that the furniture is comfortable, stylish, and in good condition. Invest in high-quality furniture, especially for the kitchen and bedrooms, as your guests will actually live in it for a month or so. They're also two of the most important rooms for corporate travelers to consider when choosing a mid-term rental.
Create an inventory list.
This is especially helpful if potential guests are looking for specific amenities during their stay. Including an inventory list prevents confusion later on when they realize something needs to be included after all.
Also, consider creating a Calendar of events at the nearby attraction.
Suppose anything is happening nearby while someone's staying at your property. In that case, this could be another attractive selling point because people who don't live locally might only know about these things if they were specifically searching for events in that area beforehand (which can be challenging).
Lastly, provide clear contact information.
Make it easy for renters to contact you with questions or schedule a viewing. Provide a phone number and email address in the listing, and respond to booking inquiries promptly.
By following these tips, you can create a listing that stands out from the competition and attracts mid-term renters